Letter from Philip Berrigan to Daniel Berrigan, Sept. - Oct. (?) 1967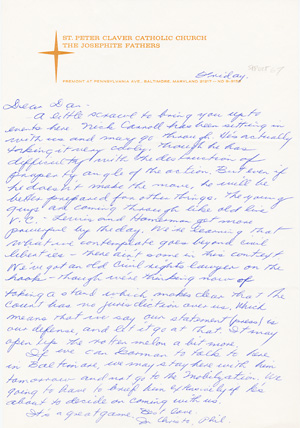 Collection:
Cornell University Library
Date:
1967
Date of Digitization:
2004
Source:
Daniel and Philip Berrigan Collection at the Division of Rare and Manuscript Collections, Cornell University Library
Original Dimensions:
?
Creator:
Berrigan, Philip, 1923-2002
Transcription:
        ST. PETER CLAVER CATHOLIC  CHURCH
        THE JOSEPHITE  FATHERS

                                                                                                           Friday
        FREMONT AT PENSYLVANIA AVE., BALTIMORE, MARYLAND 21217 -- NO 9-9159

Dear Dan - 
	A little scrawl to bring you up to 
events here. Nick Carroll has been sitting in 
with us and may go through. He's actually 
taking it very cooly. Though he has 
difficulty with the destruction of 
property angle of the action. But even if 
he doesn't make the move, he will be 
better prepared for other things. The young 
guys are coming through like old line 
V.C. - Lewis and Hamerman get more 
powerful by the day. We're learning that 
what we contemplate goes beyond civil 
liberties - there ain't some in this country. 
We've got an old civil rights lawyer on the 
hook - though we're thinking now of 
taking a stand which makes clear that the 
court has no jurisdiction over us. Which 
means that we say our statement (press) is 
our defense, and let it go at that. It may 
open up the rotten melon a bit more. 
	If we can Gorman to talk to here 
in Baltimore, we may stay here with him 
tomorrow and not go to the mobilization. We 
going to have to brief him extensively if he's 
about to decide on coming with us.
	It's a great game. Best love. 
		In Christo, Phil.